Redefine
See what's next in managing your patients' vision care needs with advanced VTI contact lens technology.
Learn More About VTI
Take your
patients and practice
further with VTI innovation
For those who've experienced it, you know NaturalVue® (etafilcon A) Multifocal 1 Day Contact Lenses redefine vision for presbyopes and help you take control of paediatric myopia. With Neurofocus Optics® technology, these lenses offer crisp, clear vision at all distances1 and demonstrate a 96% decrease in the rate of myopia progression.2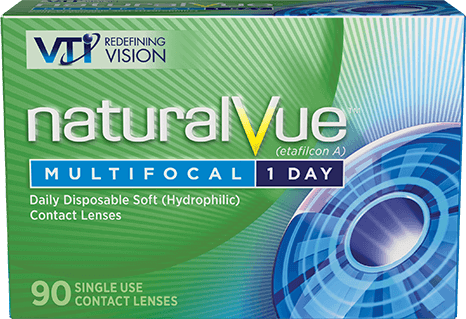 Multifocal 1 Day
Featuring patented Neurofocus Optics® Technology with an extended depth of focus (EDOF), centre distance design.1-3 Proven to decrease Myopia Progression2.
Presbyopia
Myopia
Become a
certified fitter
Getting started with NaturalVue® Multifocal contact lenses has never been easier.
Learn More
Focal Points
See the latest news about VTI and the vision care industry.
My eyes don't
get tired or strained.
I often forget I am wearing them; that's a first for me! I could never go back."
Jane D, Roanoke, VA Artist
I can get back to
wearing contact lenses!
They're super comfortable. Great for reading, seeing my cell phone
and working on my computer."
Individual results may vary
I had reading glasses
scattered all over.
I was helpless without them. With NaturalVue®, all of that changed
dramatically for the better."
Individual results may vary